I seen most BookTubers do it and even book blogger did it so I thought I would give it a try. Enjoy!
Goodreads Blurb
For the first time, ten years after her abduction from her Salt Lake City bedroom, Elizabeth Smart reveals how she survived and the secret to forging a new life in the wake of a brutal crime.
On June 5, 2002, fourteen-year-old Elizabeth Smart, the daughter of a close-knit Mormon family, was taken from her home in the middle of the night by religious fanatic, Brian David Mitchell and his wife, Wanda Barzee. She was kept chained, dressed in disguise, repeatedly raped, and told she and her family would be killed if she tried to escape. After her rescue on March 12, 2003, she rejoined her family and worked to pick up the pieces of her life.
Now for the first time, in her memoir, MY STORY, she tells of the constant fear she endured every hour, her courageous determination to maintain hope, and how she devised a plan to manipulate her captors and convinced them to return to Utah, where she was rescued minutes after arriving. Smart explains how her faith helped her stay sane in the midst of a nightmare and how she found the strength to confront her captors at their trial and see that justice was served.
In the nine years after her rescue, Smart transformed from victim to advocate, traveling the country and working to educate, inspire and foster change. She has created a foundation to help prevent crimes against children and is a frequent public speaker. In 2012, she married Matthew Gilmour, whom she met doing mission work in Paris for her church, in a fairy tale wedding that made the cover of People magazine.
Why I think I would give this book five stars.
I love true crime books and I've been following the case of a bit now.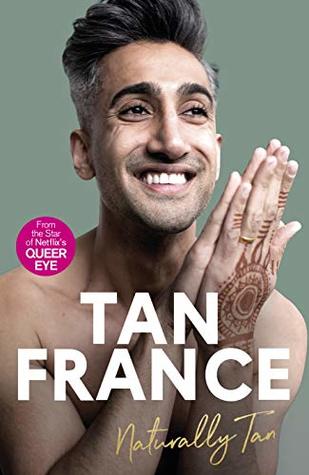 Goodreads Blurb
'The book is meant to spread joy, personal acceptance, and most of all understanding. Each of us is living our own private journey, and the more we know about each other, the healthier and happier the world will be.'
Growing up gay in a traditional South Asian family in South Yorkshire, Tan France could never have imagined he'd become part of a worldwide phenomenon. One of the few people of colour at his school, he experienced racist bullies, found solace at his grandad's denim factory and eventually discovered his true calling at fashion college. Told with his trademark humour, for the first time Tan reveals the experiences that have made him the witty, compassionate man he is today.
From meeting the love of his life Rob (a Mormon cowboy from Salt Lake City) to juggling three demanding businesses, Tan charts the highs and lows on his path to Queer Eye. And of course he can't help but pepper this book with fashion dos and don'ts. Full of candid observations about US and UK cultural differences, celebrity encounters, and behind-the-scenes revelations about Queer Eye, Naturally Tan gives us Tan's unique perspective on the happiness to be found in being yourself.
Why I think I would give this book five stars.
I love Tan on Queer Eye, he has great style and a strong personal story to match that.
Goodreads Blurb
Enzo knows he is different from other dogs: a philosopher with a nearly human soul (and an obsession with opposable thumbs), he has educated himself by watching television extensively, and by listening very closely to the words of his master, Denny Swift, an up-and-coming race car driver.
Through Denny, Enzo has gained tremendous insight into the human condition, and he sees that life, like racing, isn't simply about going fast. On the eve of his death, Enzo takes stock of his life, recalling all that he and his family have been through.
A heart-wrenching but deeply funny and ultimately uplifting story of family, love, loyalty, and hope, The Art of Racing in the Rain is a beautifully crafted and captivating look at the wonders and absurdities of human life … as only a dog could tell it.
Why I think I would give this book five stars.
I just love dogs.
Goodreads Blurb
When Karamo Brown first auditioned for the casting directors of Netflix's Queer Eye, he knew he wouldn't win the role of culture expert by discussing art and theater. Instead he decided to redefine what 'culture' could — and should — mean for the show. He took a risk and declared, 'I am culture.'
Karamo believes that culture is so much more than art museums and the ballet — it's how people feel about themselves and others, how they relate to the world around them, and how their shared labels, burdens, and experiences affect their daily lives in ways both subtle and profound. Seen through this lens, Karamo is culture: His family is Jamaican and Cuban; he was raised in the South in predominantly white neighborhoods and attended a HBCU (Historically Black College/University); he was trained as a social worker and psychotherapist; he overcame personal issues of colorism, physical and emotional abuse, alcohol and drug addiction, and public infamy; he is a proud and dedicated gay single father of two boys, one biological and one adopted. It is by discussing deep subjects like these, he feels, that the makeovers on the show can attain their full, lasting meaning. Styling your hair is important, but so is figuring out why you haven't done so in 20 years!
In this eye-opening and moving memoir, Karamo reflects on his lifelong education. It comprises every adversity he has overcome, as well as the lessons he has learned along the way. It is only by exploring our difficulties and having the hard conversations—with ourselves and one another—that we are able to adjust our mind-sets, heal emotionally, and move forward to live our best lives.
Karamo shows us the way.
Why I think I would give this book five stars.
Karamo is the most peaceful person who is famous and I need some peace in my life.
Goodreads Blurb
**THE TRUE STORY BEHIND THE CRITICALLY ACCLAIMED BBC DRAMA 'THREE GIRLS' **

What do they find attractive about me? An underage girl who just lies there, sobbing, looking up at them…as they come to me one by one.
This is the shocking true story of how a young girl from Rochdale came to be Girl A – the key witness in the trial of Britain's most notorious child sex ring.
Girl A was just 14 when she was groomed by a group of nine Asian men. After being lured into their circle with free gifts, she was plied with alcohol and systematically abused. She was just one of up to fifty girls to be 'passed around' by the gang. The girls were all under-16 and forced to have sex with as many as twenty men in one night.
When details emerged a nation was outraged and asked how these sickening events came to pass. And now, the girl at the very centre of the storm reveals the heartbreaking truth.
Why I think I would give this book five stars.
I saw the series trailer and it was interesting and I love real stories.
Alex