First Lines Fridays is a weekly feature for book lovers hosted by Wandering Words. What if instead of judging a book by its cover, its author or its prestige, we judged it by its opening lines?
Pick a book off your shelf (it could be your current read or on your TBR) and open to the first page
Copy the first few lines, but don't give anything else about the book away just yet – you need to hook the reader first
Finally… reveal the book
Lines
Freddie's shirt fell from his shoulders, revealing a strip of bare skin that Luke couldn't get enough of. Luke's cock twitched, and he lifted his chin as he looked Freddie in the eyes. His arms were spread across the back of the couch, his bare thighs spread. Freddie stepped forward. He ran a single finger down Luke's jawline, over the bristle of Luke's stubble, until he arrived at Luke's chin. Then, eyes lidded seductively, he dropped his shirt to the floor and climbed onto Luke's lap. It had been the last piece of clothing that separated them. Their thighs brushed, skin to skin. "Do you remember when I took you?" Freddie asked in a hot whisper. He
tilted his head and let his lips brush against Luke's as he spoke. "Do you remember melting for me? Giving me everything so that I could keep you safe?" "Yes," Luke uttered, breathless. The memory of that time was seared in his memory, red hot. How many times had he jerked off thinking about Freddie like that? "I want to return the favor," Freddie whispered. He stole a single, lingering kiss that made Luke chase after his lips. Freddie set his hands on Luke's shoulders to hold him back. "I want to give you everything. My body is your playground — whatever you want is yours. All you have to do is take it." Luke's hands held Freddie's hips, and he found himself pushing Freddie down against his erection. Freddie's body was already slick for him — somewhere along the way, Freddie had prepared himself. Luke thought that was hot as hell. "So," Freddie whispered. He ground his hips, teasing Luke's cock with his body. Pleasure spiked through Luke, and a low moan broke free from his lips. "It's time for you to let me know, Luke… what do you want me to do?"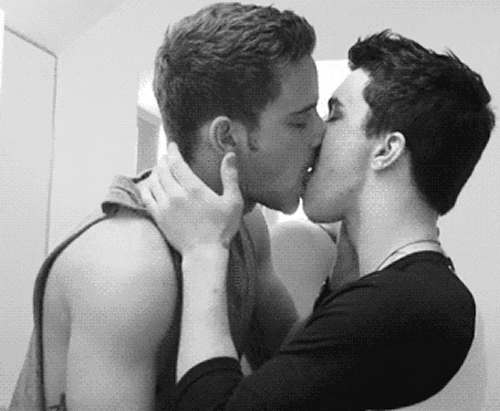 And The Book Is..
Alex