Some of the benefits of having a dog are improved heart health by reducing high blood pressure and other related conditions. Keeps you going because now you have a dog whose life is depending on you. It's another way to keep you moving by dog walks. Gives you a way to meet more people while at the dog parks and play dates.
So, what if your next best friend is a robot? You heard me right in 2020 this new dog robot is coming out called Jennie. Tom Stevens is the mind behind Jennie after his mother got diagnosed with Alzheimer's and had to give up her dog. Stevens said "My mom was devastated, so I started looking at substitutes for live animal companions,"
Jennie does many of the things that an average dog would do, like barking, responding to human touch and wags her tail, which will give that emotional support and love that every human being looks for to have in their life. Research shows that both robotic pets and pet therapy are on the rise in nowadays life. I think robotic pet can be another opinion for those who for one reason or another can't have a 'real' pet.
According to Tombot's Kickstarter page, Jennie the Golden Labrador retriever dog was created after Stevens own four-legged pup and is expected to be available for the public to purchase in May and will cost about $450. Which considering how many things a real pet would need like, the vet, food, pet sitter, groomer and toys, the price sounds affordable. So, what do you guys think? Let me know me know in the comments below!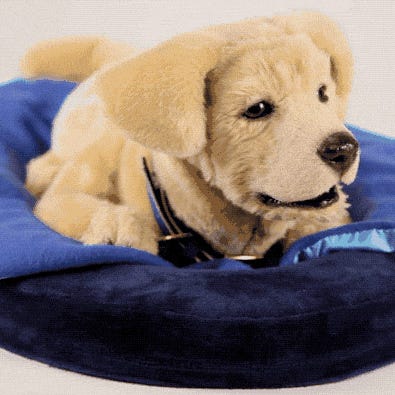 Alex