I believe that there is more to education than sitting on a desk and learn. So, when I saw this story, I knew I had to share it with you. When Bionca Smith had unpaid bills up to her head, couldn't make rent in time, she says quits to her job and starts to teach her 10-year-old son on the road. The single mum dreamed about travelling the world and seeing the hidden gems of this world. After she wrote a post on Facebook, she realised that the only one stopping her was herself.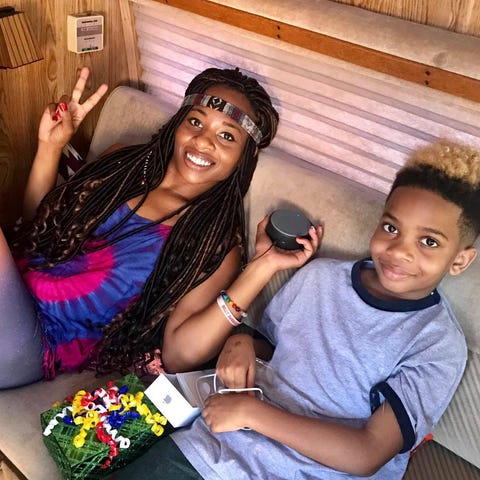 When she was 20, she had her son Carter. She had everything her heart desires apart from the mountain of bills but, something still wasn't adding up. Her job took her quality time from son; he was getting bullied and having a hard time with reading. After thinking about her childhood, she says "Growing up, I wasn't allowed out of the driveway, and we never travelled," she says. "My biggest dream was to see a beach." While in school, she had been mercilessly bullied for her acne: "Kids would throw things at me. I was afraid to raise my hand, afraid to try to make friends."
They gave their house lease and decided to travel in the next 30 days, which made it feel very real all of a sudden. Since she knew that she had to home-school but did really know how to do it, she researched and found an online school called Connections Academy so that her son can have online lessons and have access to teachers while she was his coach at home.
How did they end up in Thailand? Simple they spun a globe and Thailand landed under their finger. After like the culture to discover and it was affordable to them. After a few weeks, Bionca found a 1989 Ford Econoline with a kitchen, a toilet, a shower and two beds for $4,900 which became their new home. Everywhere they travel they try to volunteer such as "We feed the homeless, work in animal shelters, clean up beaches and campgrounds," she says as a way to give back to the community they are calling home for that time being.
Alex