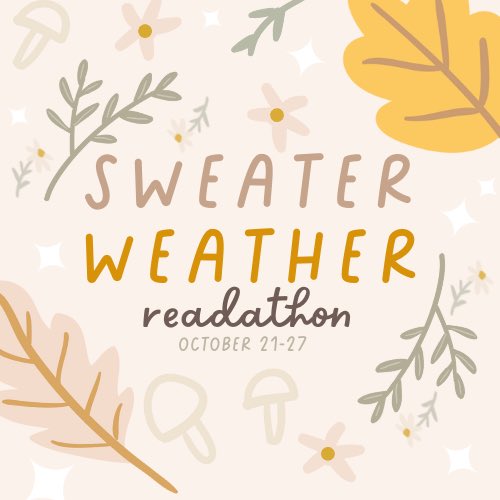 Yes, I know I have too many books on my TBR to finish until December, but I will try anyway. Today, it is Thursday the 14th, and I have 65 novels to finish. However, I haven't taken part in a readathon in a while. So, I'm giving Sweater Weather readathon a go. Zoë, Abigail and Liv are hosting this readathon, which is being held from 21st to 27th October.
Prompts:
Read A Book With An Orange Cover.
A short read I already had on my TBR.
Goodreads Blurb:
Sometimes, the last place you intended to go is exactly where you need to be.
When 26-year-old Daisy's life in London comes crashing down around her, the only thing she can think of is getting away – far away. That's how she found herself stumbling off a train in England's picturesque Peak District – 150 miles from home, with no idea why she'd gone there and even less idea how she intended to get home.
But as Daisy explores the gorgeous village of Upper Finlay, she glimpses the possibility of a different life. The Derbyshire Dales offer up new friends, new opportunities, and a distractingly dishy object of attraction in the form of local bookstore owner Alex (and his bumbling Great Dane.) When Daisy discovers Alex's business is in trouble she steps in to save the day.
But London's Calling – literally. The life Daisy ran away from is calling her back. Why then, is she so reluctant to heed its call?
Daisy's got a decision to make: Will she play it safe, and return to what she knew? Or is she brave enough to take a leap of faith and create a bold, new life for herself in the last place she'd ever expected?
Read A Book That Takes Place During Fall In The Title.
I'm not 100% sure it takes place during, but I'm assuming it is from the title and cover.
Goodreads Blurb:
Moving to Oakleaf Manor was the last thing Brynn Townsend had planned after losing her job in the city, but even more unexpected was the headstrong son of the owner stealing her heart. Her only hope of building a new life in the quaint town of Sugar Maple rests on saving his family farm. But when he threatens to derail not only her plans to save Oakleaf Manor, but also her newfound home, Brynn knows she must risk their budding romance in order to save it all.
Preserving his family's legacy and restoring his home to its former glory means everything to Jack. Generations of the Oakley family have owned and run the historic estate of Oakleaf Manor, but Jack's past mistakes have left his family in danger of losing their home. With the fate of Oakleaf Manor resting solidly on his shoulders, he can't risk failing again, even if it means putting his growing relationship with Brynn in jeopardy.
When Brynn crafts a daring plan to save Oakleaf Manor, Jack's deeply rooted fears resurface. He's tried this plan before with disastrous consequences. Can Brynn find a way to convince Jack to trust both her and their love? Will Jack realize where his heart truly belongs before it's too late? Or will the happiness they had found and Oakleaf Manor end up in ruins?
Read In A Format You Typically Don't Read In.
This prompt I'm still not sure about, but if I find an audiobook of a book I want to read, it could work.
Read A Book With The Word Fall In The Title.
Goodreads Blurb:
Heartache. Betrayal. Forgiveness. Redemption. It's time to head back to Magdalena, New York, and spend a little time with the people we love to love and even a few we love to hate.
Gina Servetti was raised to believe she wasn't enough–not thin enough, not pretty enough, not clever enough. She's more comfortable with a spreadsheet than a conversation and doesn't trust easily, especially where men are concerned, most notably the good-looking, smooth-talking ones like Ben Reed.
When city boy Ben Reed arrives in Magdalena, he's not planning a long-term stay in a town filled with too many busybodies and too little excitement. He just needs things to settle down in Philly for a few months before he returns to his old life and his plan to win back his ex-wife. But once he gets to know the people in this town, he starts to care about them: one in particular–Gina Servetti. The longer he's around her, the more he realizes she's so much more than a woman with a scowl and a sharp tongue. She's real and honest, and as afraid of trusting as he is.
But can Ben and Gina open up and take a risk for a chance at real love? Well, if the rest of the town has anything to say about it, and they always do, this couple will take the big leap and end with an "I do"!
And would the story be complete without checking in on Harry Blacksworth's latest debacle…ahem…adventure? Harry's moved his brood to Magdalena and is taking advice but, thankfully, not fashion lessons from Pop Benito. That spells trouble on so many levels. Oh, but it's going to be interesting…
Read A BackList
I think all of the books on my TBR are backlist apart from one. So, I guess a lot of them could work.
Goodreads Blurb:
Single mother Malika "Pumpkin" Tavares lost faith in fairytales after she fell for a toad. Now she believes she's not cut from the storybook, heroine cloth and searches for Mr. Good Enough amongst the sidekicks and supporting men of the town.
Love at first sight isn't a cliche for town royalty Armand "Manny" Charmayne. For generations the Charmaynes have spotted their soulmates by seeing a golden aura the first time they laid eyes on The One.
When Manny meets Pumpkin he sees…nothing, but sparks fly off the richter scale. The more he gets to know her the more he considers defying fate, if only he can convince her to take a chance on love again.
Sweather Weather Info:
Alex