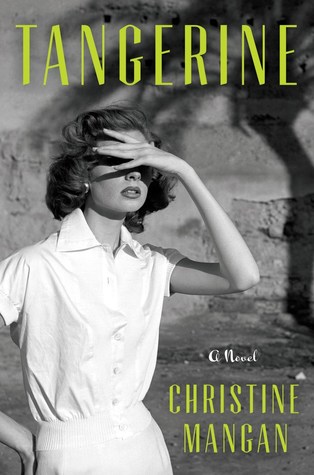 The last person Alice Shipley expected to see since arriving in Tangier with her new husband was Lucy Mason. After the accident at Bennington, the two friends—once inseparable roommates—haven't spoken in over a year. But there Lucy was, trying to make things right and return to their old rhythms. Perhaps Alice should be happy. She has not adjusted to life in Morocco, too afraid to venture out into the bustling medinas and oppressive heat. Lucy—always fearless and independent—helps Alice emerge from her flat and explore the country.
But soon a familiar feeling starts to overtake Alice—she feels controlled and stifled by Lucy at every turn. Then Alice's husband, John, goes missing, and Alice starts to question everything around her: her relationship with her enigmatic friend, her decision to ever come to Tangier, and her very own state of mind.
Tangerine is a sharp dagger of a book—a debut so tightly wound, so replete with exotic imagery and charm, so full of precise details and extraordinary craftsmanship, it will leave you absolutely breathless.
After splitting up with her cheating ex-husband, Ruby Brown is ready for a change. She's single again for the first time in years and she's going to dive into this brave new world with a smile on her face and a spring in her step. The last thing she's looking for is another serious relationship.
Mason Soames represents everything Ruby wants right now: he's charming, handsome, and perfect for some no-strings-attached fun, and yet Ruby can't help feel that something is missing. Joe Edwards, on the other hand, is also lovely and handsome but he comes with the sort of baggage Ruby wants to avoid: an annoyingly attractive ex-wife and two teenage children.
Ruby soon has some very tough decisions to make. Is she ready for a relationship of any kind, and what type of life does she really want? Because while Ruby may think she knows what she wants, is that what she needs to be truly happy?
Feel-good, wonderful and an absolute must-read from the queen of romance Carole Matthews, Ruby's story will make you laugh, cry and leave you wanting more. It's about to get emotional in Million Love Songs
Kate O'Brien is thirty and has very little to think about except trying to keep her balance as she totters up London's media-land ladder.
Fiona O'Brien is Kate's responsible older sister – with a husband, twin boys, a dog and now … a life-changing problem.
It's a problem that means Kate going back to Dublin. Pronto. There she finds herself stepping into Fiona's shoes – and discovering that she's definitely not cut out to be a domestic goddess. On top of that, the ex she thought she'd got over years ago turns up to haunt her.
Will either of the O'Brien sisters survive? And even if they do, can either of them slip back into their old shoes ever again?
Nick Stone is back in an up-to-the-minute thriller – ripped fresh from the headlines.
Stone has returned to London.
The world is in a state of unrest and opportunists are looking to take advantage of an unstable world.
Their motives are unclear. But their threat is real.
Who are they really working for?
A distraught woman arrives at the Eastvale police station desperate to speak to Detective Chief Inspector Alan Banks. But Banks is abroad, and the woman's revelation of a loaded gun hidden in her daughter Erin's bedroom leads to a shocking fatality when a police armed-response team breaks into her house. The fallout will have dark consequences for Banks and his partner, DI Annie Cabbot. It turns out that Erin's best friend is Banks' own daughter, Tracy . . . who was last seen in the company of the weapon's actual owner, a very bad boy indeed.
Now that his child is on the run with a psychopath, Banks finds himself caught in a bloody tangle of betrayal and murder. But the rogue DCI is a bit of a bad boy himself, and he'll freely risk his life and career in the cause of love—and vengeance.
1969… In an era of free love and rebellion, a dead body is discovered among the detritus of a recently concluded rock festival—a beautiful young woman stabbed so savagely through the chest that a piece of her heart was sliced off.
Now… A freelance journalist, a stranger to the region, is savagely bludgeoned to death in a shocking act of violence with no apparent motive.
Two murders separated by four decades are investigated by two very different but equally haunted investigators—one, a casualty of war unable to come to terms with a confusing new world; the other, a rogue policeman harbouring ghosts of his own. But the truth behind a grisly present-day slaying may somehow be hidden in the amplified, drug-induced fog of a notorious past, propelling Detective Chief Inspector Alan Banks into the darkest shadows of the peace, love, and rock 'n' roll generation.
If you haven't guessed yet by the blurbs, I was gifted those books or bought myself and I read or try to read any book I'm given. Now I will go on my Goodreads to read list and pick two books at random.
Hannah's a witch, but not the kind you're thinking of. She's the real deal, an Elemental with the power to control fire, earth, water, and air. But even though she lives in Salem, Massachusetts, her magic is a secret she has to keep to herself. If she's ever caught using it in front of a Reg (read: non-witch), she could lose it. For good. So, Hannah spends most of her time avoiding her ex-girlfriend (and fellow Elemental Witch) Veronica, hanging out with her best friend, and working at the Fly by Night Cauldron selling candles and crystals to tourists, goths, and local Wiccans.
But dealing with her ex is the least of Hannah's concerns when a terrifying blood ritual interrupts the end-of-school-year bonfire. Evidence of dark magic begins to appear all over Salem, and Hannah's sure it's the work of a deadly Blood Witch. The issue is, her coven is less than convinced, forcing Hannah to team up with the last person she wants to see: Veronica.
While the pair attempt to smoke out the Blood Witch at a house party, Hannah meets Morgan, a cute new ballerina in town. But trying to date amid a supernatural crisis is easier said than done, and Hannah will have to test the limits of her power if she's going to save her coven and get the girl, especially when the attacks on Salem's witches become deadlier by the day.
Soon June is pride month, I need LGBTQIA+ books recommendations I can add to my list this month. So use comments section to do that! Looking forward to hear what you want me to read.
Alex