Hosted by Thatartsyreadergirl.
November 6: Backlist Books I Want to Read
Goodreads Blurb:
In this lyrical and searing debut novel written by a rising literary star and MacDowell Fellow, a young man is preparing to serve in the Israeli army while also trying to reconcile his close relationship to two Palestinian siblings with his deeply ingrained loyalties to family and country.
The story begins in an Israeli military jail, where — four days after his nineteenth birthday — Jonathan stares up at the fluorescent lights of his cell, and recalls the series of events that led him there.
Two years earlier: Moving back to Israel after several years in Pennsylvania, Jonathan is ready to fight to preserve and defend the Jewish state, which his grandfather — a Salonican Jew whose community was wiped out by the Nazis — helped establish. But he is also conflicted about the possibility of having to monitor the occupied Palestinian territories, a concern that grows deeper and more urgent when he meets Nimreen and Laith — the twin daughter and son of his mother's friend.
From that winter morning on, the three become inseparable: wandering the streets on weekends, piling onto buses toward new discoveries, laughing uncontrollably. They share joints on the beach, trading snippets of poems, intimate secrets, family histories, resentments, and dreams. But with his draft date rapidly approaching, Jonathan wrestles with the question of what it means to be proud of your heritage and loyal to your people, while also feeling love for those outside of your own tribal family. And then that fateful day arrives, the one that lands Jonathan in prison and changes his relationship with the twins forever.
Powerful, important, and timely, Sadness Is a White Bird explores one man's attempts to find a place for himself, discovering in the process a beautiful, against-the-odds love that flickers like a candle in the darkness of a never-ending conflict
Goodreads Blurb
What if the person you thought you knew best turns out to be someone you never knew at all . . . ?
Andrea knows everything about her mother, Laura. She knows she's spent her whole life in the small beachside town of Belle Isle; she knows she's never wanted anything more than to live a quiet life as a pillar of the community; she knows she's never kept a secret in her life. Because we all know our mothers, don't we?
But all that changes when a trip to the mall explodes into violence and Andrea suddenly sees a completely different side to Laura. Because it turns out that before Laura was Laura, she was someone completely different. For nearly thirty years she's been hiding from her previous identity, lying low in the hope that no one would ever find her. But now she's been exposed, and nothing will ever be the same again.
The police want answers and Laura's innocence is on the line, but she won't speak to anyone, including her own daughter. Andrea is on a desperate journey following the breadcrumb trail of her mother's past. And if she can't uncover the secrets hidden there, there may be no future for either one of them. . . .
Goodreads Blurb
Leigh Chen Sanders is absolutely certain about one thing: When her mother died by suicide, she turned into a bird.
Leigh, who is half Asian and half white, travels to Taiwan to meet her maternal grandparents for the first time. There, she is determined to find her mother, the bird. In her search, she winds up chasing after ghosts, uncovering family secrets, and forging a new relationship with her grandparents. And as she grieves, she must try to reconcile the fact that on the same day she kissed her best friend and longtime secret crush, Axel, her mother was taking her own life.
Alternating between real and magic, past and present, friendship and romance, hope and despair, The Astonishing Color of After is a novel about finding oneself through family history, art, grief, and love
Goodreads Blurb:
Eleanor West's Home for Wayward Children
No Solicitations
No Visitors
No Quests
Children have always disappeared under the right conditions; slipping through the shadows under a bed or at the back of a wardrobe, tumbling down rabbit holes and into old wells, and emerging somewhere… else.
But magical lands have little need for used-up miracle children.
Nancy tumbled once, but now she's back. The things she's experienced… they change a person. The children under Miss West's care understand all too well. And each of them is seeking a way back to their own fantasy world.
But Nancy's arrival marks a change at the Home. There's a darkness just around each corner, and when tragedy strikes, it's up to Nancy and her new-found schoolmates to get to the heart of the matter.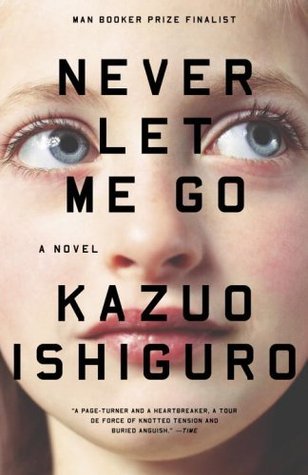 Goodreads Blurb :
From the Booker Prize-winning author of The Remains of the Dayand When We Were Orphans, comes an unforgettable edge-of-your-seat mystery that is at once heartbreakingly tender and morally courageous about what it means to be human.
Hailsham seems like a pleasant English boarding school, far from the influences of the city. Its students are well tended and supported, trained in art and literature, and become just the sort of people the world wants them to be. But, curiously, they are taught nothing of the outside world and are allowed little contact with it.
Within the grounds of Hailsham, Kathy grows from schoolgirl to young woman, but it's only when she and her friends Ruth and Tommy leave the safe grounds of the school (as they always knew they would) that they realize the full truth of what Hailsham is.
Never Let Me Go breaks through the boundaries of the literary novel. It is a gripping mystery, a beautiful love story, and also a scathing critique of human arrogance and a moral examination of how we treat the vulnerable and different in our society. In exploring the themes of memory and the impact of the past, Ishiguro takes on the idea of a possible future to create his most moving and powerful book to date.
Goodreads Blurb:
The story follows the unlikely friendship of two young women forged via fan fiction and message boards, and is told entirely in texts, chats, and blog posts.
Gena (short for Genevieve) and Finn (short for Stephanie) have little in common. Book-smart Gena is preparing to leave her posh boarding school for college; down-to-earth Finn is a twenty-something struggling to make ends meet in the big city. Gena's romantic life is a series of reluctant one-night-stands; Finn is making a go of it with long-term boyfriend Charlie. But they share a passion for Up Below, a buddy cop TV show with a cult fan following. Gena is a darling of the fangirl scene, keeping a popular blog and writing fan fiction. Finn's online life is a secret, even from Charlie. The pair spark an unlikely online friendship that deepens quickly (so quickly it scares them both), and as their individual "real" lives begin to fall apart, they increasingly seek shelter online, and with each other.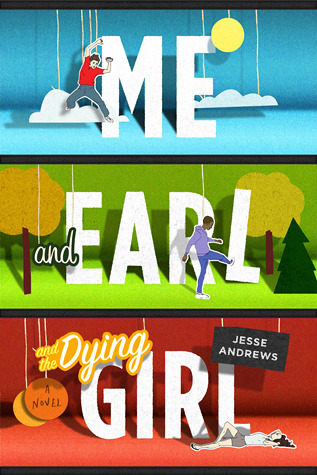 Goodreads Blurb:
Greg Gaines is the last master of high school espionage, able to disappear at will into any social environment. He has only one friend, Earl, and together they spend their time making movies, their own incomprehensible versions of Coppola and Herzog cult classics.
Until Greg's mother forces him to rekindle his childhood friendship with Rachel.
Rachel has been diagnosed with leukemia—-cue extreme adolescent awkwardness—-but a parental mandate has been issued and must be obeyed. When Rachel stops treatment, Greg and Earl decide the thing to do is to make a film for her, which turns into the Worst Film Ever Made and becomes a turning point in each of their lives.
And all at once Greg must abandon invisibility and stand in the spotlight.
Goodreads Blurb :
Here is the unbelievable yet true story of Sybil Dorsett, a survivor of terrible childhood abuse who as an adult was a victim of sudden and mysterious blackouts. What happened during those blackouts has made Sybil's experience one of the most famous psychological cases in the world.
Goodreads Blurb:
Hazel has just moved into a trailer park of senior citizens, with her father and Diane—his extremely lifelike sex doll—as her roommates. Life with Hazel's father is strained at best, but her only alternative seems even bleaker. She's just run out on her marriage to Byron Gogol, CEO and founder of Gogol Industries, a monolithic corporation hell-bent on making its products and technologies indispensable in daily life. For over a decade, Hazel put up with being veritably quarantined by Byron in the family compound, her every movement and vital sign tracked. But when he demands to wirelessly connect the two of them via brain chips in a first-ever human "mind-meld," Hazel decides what was once merely irritating has become unbearable. The world she escapes into is a far cry from the dry and clinical bubble she's been living in, a world populated with a whole host of deviant oddballs.
As Hazel tries to carve out a new life for herself in this uncharted territory, Byron is using the most sophisticated tools at his disposal to find her and bring her home. His threats become more and more sinister, and Hazel is forced to take drastic measures in order to find a home of her own and free herself from Byron's virtual clutches once and for all.
Goodreads Blurb:
Witty, acute, fierce, and celebratory, Why Be Happy When You Could Be Normal? is a tough-minded search for belonging, for love, identity, home, and a mother.
Jeanette Winterson's novels have established her as a major figure in world literature. She has written some of the most admired books of the past few decades, including her internationally bestselling first novel, Oranges Are Not the Only Fruit, the story of a young girl adopted by Pentecostal parents that is now often required reading in contemporary fiction.
Why Be Happy When You Could Be Normal? is a memoir about a life's work to find happiness. It's a book full of stories: about a girl locked out of her home, sitting on the doorstep all night; about a religious zealot disguised as a mother who has two sets of false teeth and a revolver in the dresser, waiting for Armageddon; about growing up in an north England industrial town now changed beyond recognition; about the Universe as Cosmic Dustbin.
It is the story of how a painful past that Jeanette thought she'd written over and repainted rose to haunt her, sending her on a journey into madness and out again, in search of her biological mother.
Witty, acute, fierce, and celebratory, Why Be Happy When You Could Be Normal? is a tough-minded search for belonging, for love, identity, home, and a mother.
Alex