First Lines Fridays is a weekly feature for book lovers hosted by Wandering Words. What if instead of judging a book by its cover, its author or its prestige, we judged it by its opening lines?
Pick a book off your shelf (it could be your current read or on your TBR) and open to the first page
Copy the first few lines, but don't give anything else about the book away just yet – you need to hook the reader first
Finally… reveal the book!
Lines
Death-Cast is calling with the warning of a lifetime—I'm going to die today. Forget that, "warning" is too strong a word since warnings suggest something can be avoided, like a car honking at someone who's crossing the street when it isn't their light, giving them the chance to step back; this is more of a heads-up. The alert, a distinctive and endless gong, like a church bell one block away, is blasting from my phone on the other side of the room. I'm freaking out already, a hundred thoughts immediately drowning out everything around me. I bet this chaos is what a first-time skydiver feels as she's plummeting out of a plane, or a pianist playing his first concert. Not that I will ever know for sure.
It's crazy. One minute ago I was reading yesterday's blog entry from CountDowners—where Deckers chronicle their final hours through statuses and photos via live feeds, this particular one about a college junior trying to find a home for his golden retriever—and now I'm going to die.
I'm going to . . . no . . . yes. Yes.
My chest tightens. I'm dying today.
I've always been afraid of dying. I don't know why I thought this would jinx it from actually happening. Not forever, obviously, but long enough so I could grow up. Dad has even been drilling it into my head that I should pretend I'm the main character of a story that nothing bad ever happens to, most especially death, because the hero has to be around to save the day. But the noise in my head is quieting down and there's a Death-Cast herald on the other end of the phone waiting to tell me I'm going to die today at eighteen years old.
Wow, I'm actually . . .
The Book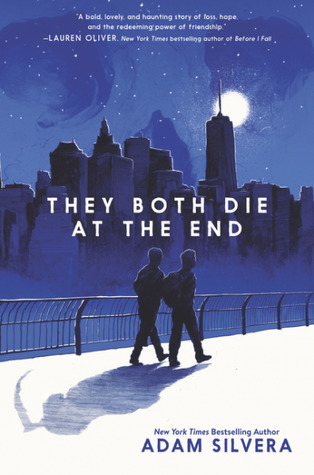 Goodreads
Alex