First Lines Fridays is a weekly feature for book lovers hosted by Wandering Words. What if instead of judging a book by its cover, its author or its prestige, we judged it by its opening lines?
Pick a book off your shelf (it could be your current read or on your TBR) and open to the first page
Copy the first few lines, but don't give anything else about the book away just yet – you need to hook the reader first
Finally… reveal the book!
Lines
Six stencils in and it's gone. Okay, the tag vanished by Stencil Number Two, but I have a point to prove. I'm not covering up your scribbled slur with just anything. I'm making art here. I'm creating. I'm on fire.
I've never thrown up such an intense piece—I was worried I wouldn't be able to pull it off in time. My arm flies across the wall, pink paint striping across the last stencil. It looks like it's going to work out. I chuckle to myself. This is what it's all been for, the hours of paint-pen practice, filling up every inch of every sketchbook with tags and words and pictures. All my hard work has paid off, and it's all up here on the wall.
I know I shouldn't be tagging the school. I know that. But I wasn't the first, and that mess had to go. Jordyn told the principal that someone tagged the gym, she had to. The vandal singled her out, and word gets around real quick at Kingston School for the Deaf. But three weeks went by, and "Jordyns a SLUT" was still there on the back of the gym for all to see. And good ole Principal Howard hadn't done a damn thing.
Hint:
Full of colours
Cover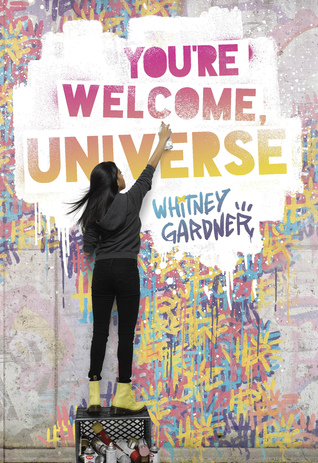 Goodreads
Alex